Morning all, I've been having a ball playing over the weekend with the newly released 2Crafty designs. There was plenty of paint, inks and crackle paint flying around the room, the family was told to take cover LOL!!
I have the first project to share with you today, with more to come very soon.
Where to start!! I think I'll work my way though the layers.
The
Picket Fence
was the first piece to be used, inked with pinecone and then using a rusty paint mask, I have lightly applied black ink for a contrast.
To add some finishing touches to the chipboard, I have coloured the nails with a gold gel pen and doodled a border around each picket.
Now you all know how much I love my chipboard, but there are times when I really can't help but chop it up a little :) The
Cartia's Swirl
and
Corine's Swirl
where the perfect pieces to use to create a grass type effect for the layout, they were both cut down into smaller pieces and inked with 2 different shades of green ink and placed either side of the photo.
The
Cogs Border
was also tortured, I mean, cut into smaller pieces, sprayed with glimmermist and then randomly placed over the page to balance the colours and add a bit of "Boy" to the mix.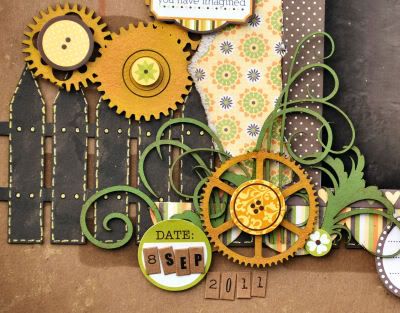 And finally my favourite piece of all!
The
Victorian Lamp Post
was coated with walnut stain Distress crackle and then touched with gold distress crackle. Once dry I have swiped with a mixture of gold, black and brown inks to highlight different areas of the lamp. I have used stickles and glossy accents to create the 'light' in the lamp.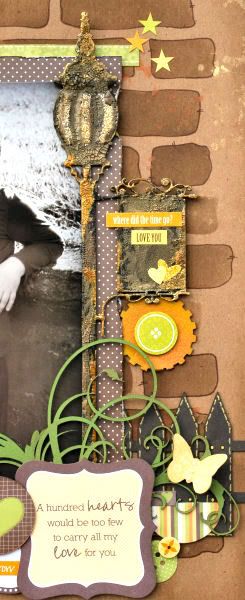 And now the page is complete!
Hopefully there is something here to inspire.