I've been trying to scrap every day while I have been on holidays and one of the things definitely helping the creativity is using
Anthea's
cool sketches over at
Scrapbook Savvy
.
I have used a few different
2 Crafty
chipboard pieces to embellish this page.
Grabbed myself a
Skull
first, inked mainly the edges, highlighted the eye sockets with a gold gel pen and then backed them with some paper to help define them.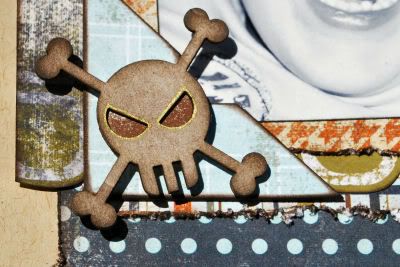 Next piece
Cog Border
, I was a little brutal with this piece and dissected into smaller sections. Love adding cogs to my pages, gives it a masculinge boost :)
Each piece was lightly inked and higlighted with gold pen and then randomly placed on the page.
Final piece of chippie was from a 12x12 chipboard sheet called
Arrows
. Same technique used, ink and pen, then added a rubon too.
Title created using 2 Crafty chipboard alphas, LOVE these!!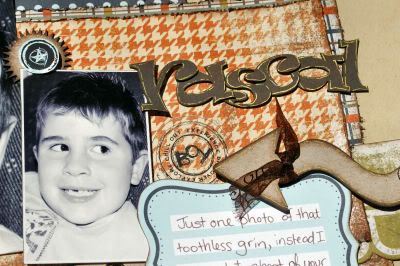 Rascal