Posting this a little early :)
We have a busy final day of school holidays planned for tomorrow.
Haircut, shoes and general stocking up of the cupboards, so I thought I best get this done now.
You already know how much I am loving
2Crafty
chipboard titles, they make scrapping a page SO much easier.
For this page I have used the
Thankful
title.
Very appropriate when talking about my gorgeous 'Great Niece'.
The base coat of this piece is a layer of red ink, then I have grabbed my favourite small paisley stamp and using black ink to create a contrast, randomly stamped the image over the title.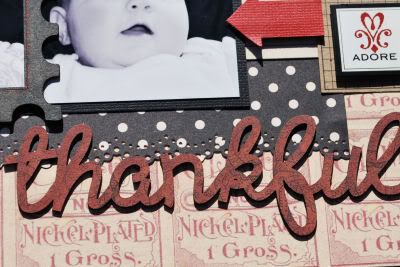 I've added the
small postage stamp frames
to highlight 2 of the photos, love how it draws the eyes to those photos and it gives the page some extra dimension. They are simply inked in black and then I've highlighted the border with a red glitter pen.
This page showcases photos from my very first photo shoot, I had a ball!
Thanks for dropping in.