Good morning to all out there on this chilly Wednesady morning.
The last few days has seen me return to my childhood for a moment and have some fun playing with blocks, the chipboard kind of course.
My son's friend had his 7th birthday a few weekends ago and the theme for the party was lego. They had a fabulous time searching for pieces, building planes and cars and eating gigantic Lego block cakes. The perfect 'boy' party.
The page I have scrapped is for our '52 weeks' album and I thought the
2 Crafty
Building Blocks
were the perfect addition.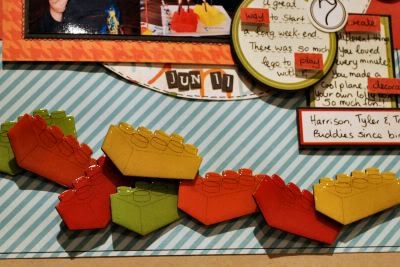 The blocks have been inked with bright colours to match the page and then had a coat of Glossy Accents to give them that plastic shine.