Morning all!
Well it is promising to be a very hot day here in Adelaide.
Not something I look forward to, but it gives me the perfect excuse to stay indoors, in the air-conditioning and scrap the day away.
I've had some fun photos printed of my son and partner for awhile now, but hadn't scrapped them due to the lack of inspiration. That was until I received some
2 Crafty
goodness in the mail this week.
Soon as I spotted the
Thought Bubbles
I knew what page I was going to do.
I have gone for a very simple technique and covered the bubbles with plain coloured paper, added a border to each with my black gel pen and then used them to record the boys conversation while they were playing in the park.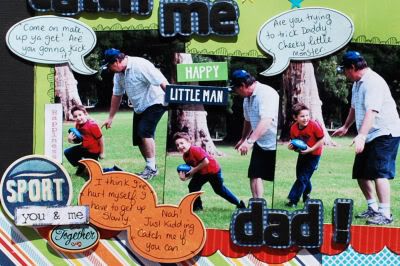 Enjoy the day, whatever you do, wherever you are!!